Building the Future Together!
Our self-performed services offer great value to clients and we take great pride in the ability to provide "one-stop shop" services for several different scopes of work including: demolition, earth work, deep foundations, site utilities, concrete foundations, structural concrete, concrete paving, bridge construction, structural steel fabrication and installation, pre-engineered steel building erection, marine construction, commercial plumbing, and electrical.
We are a licensed, bonded and insured civil and commercial construction company based out of New Iberia
Innovating execution methods to deliver safe, high-quality projects is the foundation of our business and success.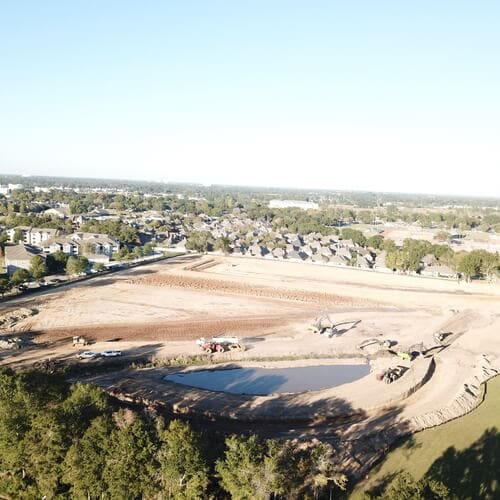 CIVIL
Lake Farm Detention Pond
Civil Construction – Earth Work & Storm Drainage
Location: Intersection of Republic Ave and Lake Farm Drive
Description: This project was designed by LCG to help with drainage in Kings Haven and Ashland Park Subdivisions and surrounding areas that are prone to flooding.
Reconstruction of two detention ponds totaling 9 acres
Excavating a large new lateral ditch that will tie into the existing coulee.
Concrete Articulating Block Matting installation on the coulees to mitigate erosion.
Installation of 6 sewer force mains and water main offsets to allow new culvert installations.
Installation of over 3,000' of new storm drainage pipe, catch basins, and control boxes to divert storm water from neighborhoods into these ponds.
Removed 120 large trees including root balls and hauled off site.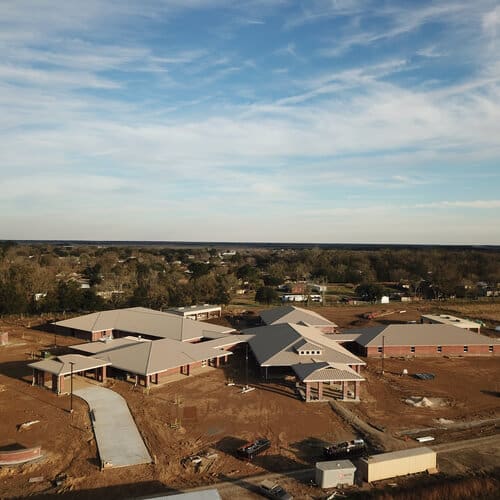 Commercial
Belle Place Elementary School
for Iberia Parish School Board
COMMERCIAL
Belle Place Elementary School for Iberia Parish School Board
Southern was contracted by Iberia Parish School Board to construct a new 60,000 square foot elementary school for Iberia Parish.
Construction began in July of 2017 on a 60,000 square foot brand new Elementary School on LeBourgeois Road in New Iberia at the cost of $12.4 million. In May of 2019 construction was complete and Belle Place Elementary School welcomed new students that fall.
SC self-performed services included:
Earthwork
Concrete foundation work
Steel truss erection
Site drainage
Site sewer & water
Pre-engineered metal building erection
Interior door installation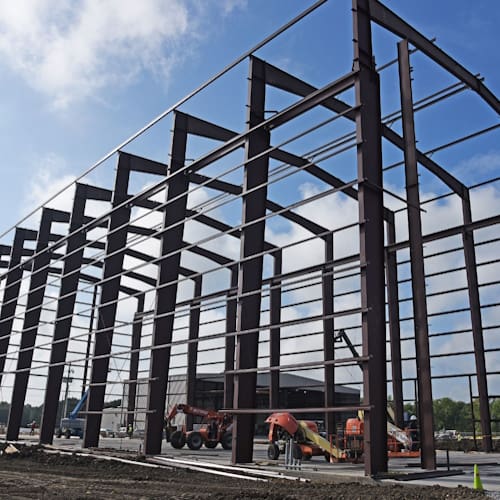 Industrial
Metal Shark Boats Franklin Yard Office Building
INDUSTRIAL
Metal Shark Boats Franklin Yard Office Building
Location: 160 Boro Lane. Franklin, LA 70538
Size: 8,000 Square Foot Building
Description: SC was contracted by Metal Shark Boats to design and construct a 2 floor 8000 square foot office building in Franklin, LA.
General Construction services performed included timber pile driving, concrete building foundation, pre-engineered metal building erection, cold formed metal framing, aluminum storefront door and window systems, acoustical panel ceilings, luxury vinyl tile flooring, polished concrete flooring, exterior and interior painting, MEP, and elevator installation.
Services self-performed included:
Earthwork,
Timber pile driving
Site utilities
Site paving
Concrete foundations
Pre-engineered metal building erection
Full interior finish out including office spaces, restrooms, storage space, break rooms, and communal work spaces.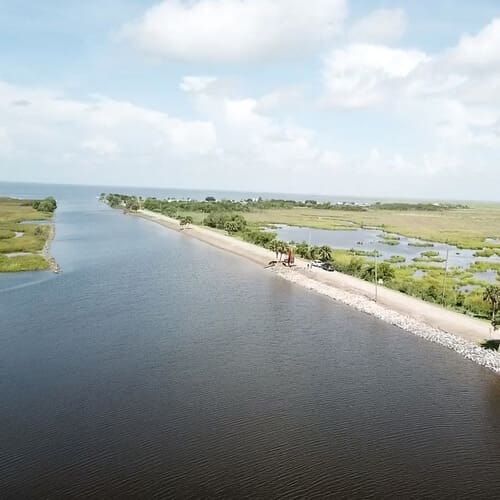 Marine
Cypremort Point
Rock Revetmemt
MARINE
Cypremort Point State Park Rock Revetment
CPRA Project Name: Cypremort Point State Park Improvements, Marsh Boardwalk and Rock Revetment Project.
Southern installed 2500 Tons of 130LB of rock revetment along Quintana Canal to better establish the canal bank to support bank erosion that's taken place over the previous years.
Southern also constructed a 2000 LF timber boardwalk on timber piles through the Marsh of Cypremort Point State Park, along with a Observation Shaded Structure.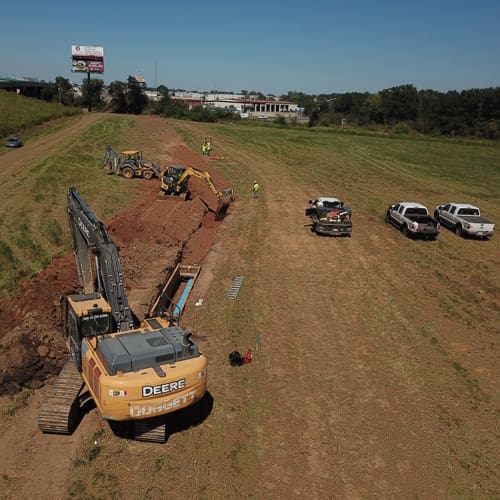 Municipal Sewer & Water
Hwy 90 – Ambassador Caffery
Interchange
MUNICIPAL SEWER & WATER
Hwy 90 & Ambassador Caffery Interchange Water Line Relocation
Relocation of existing water line along Hwy 90 in Broussard for the upcoming construction of I-49 S: Ambassador Caffery/US 90 Interchange project for LADOTD
Installed over 8646' of new 12' pvc water main
Removed over 7100' of old water main that was in future roadways areas
18 new fire hydrants installed
1 new 12' water main crossing under Hwy 90
Tied in two dead ends to loop feed the area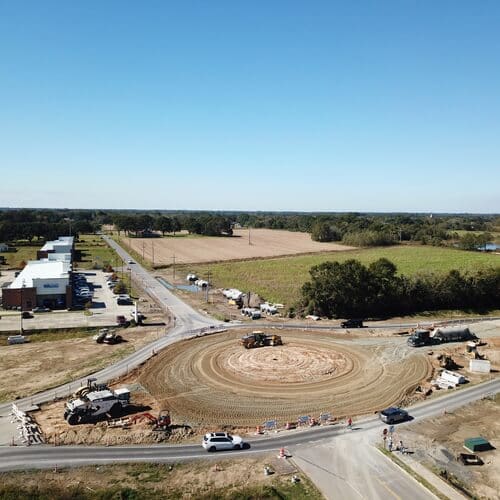 Roads/Bridges
Chemin Metairie / Savoy Rd
Roundabout
Highway/Road Construction
Chemin Metairie & Savoy Road Roundabout
Highway/Road Construction – Earthwork, Water Line Relocation, New Storm Drainage System, Asphalt Road Construction & Concrete Pavement Construction atop of Lime & Soil Cement Stabilized Base Course.
Location: Intersection of Chemin Metairie & Savoy Road in Youngsville, La
Description:
This project was designed by the City of Youngsville to help with drainage near the existing Cypress Gardens Subdivision, as well as traffic along the very busy Chemin Metairie & Savoy Road Intersection.
Relocation & installation of new 8" & 12" waterlines.
Installation of 2,600' of new storm drainage system ranging from 15" to 72" reinforced concrete pipe, along with 28 CB-08 road curb inlets for the new road & roundabout, and a large junction box tying into an existing drainage coulee that falls to the Parc Perdue Coulee.
Lime & soil cement stabilized base course.
A 3,700 SY Concrete Roundabout
Asphalt road construction along Savoy Road, Chemin Metairie, & Cypress Gardens Lane.
General Contractor
As a General Contractor, Southern partners with the owner and his designer through a traditional design-bid-build process under either a negotiated or lump sum contract.
Design Builder
As a Design-Builder, Southern is a single source of responsibility to the owner, thereby assuming all risk to deliver the project. This approach allows Southern and the owner to influence design and cost at an early stage while facilitating "fast track" construction.
Construction Manager
As a Construction Manager, Southern normally provides services on an "at-risk" basis where we are responsible for guaranteeing performance. However, if the owner prefers we may also serve as his agent with the owner holding all trade contracts.
The biggest differentiator for Southerns' future is combining its civil and vertical divisions' knowledge and technological resources — specifically, the innovations that can enhance efficiency.
Field and office operations are based out of a 6-acre site in New Iberia, Louisiana that houses offices and fabrication space, with an adjacent yard for all company equipment, machines and vehicles.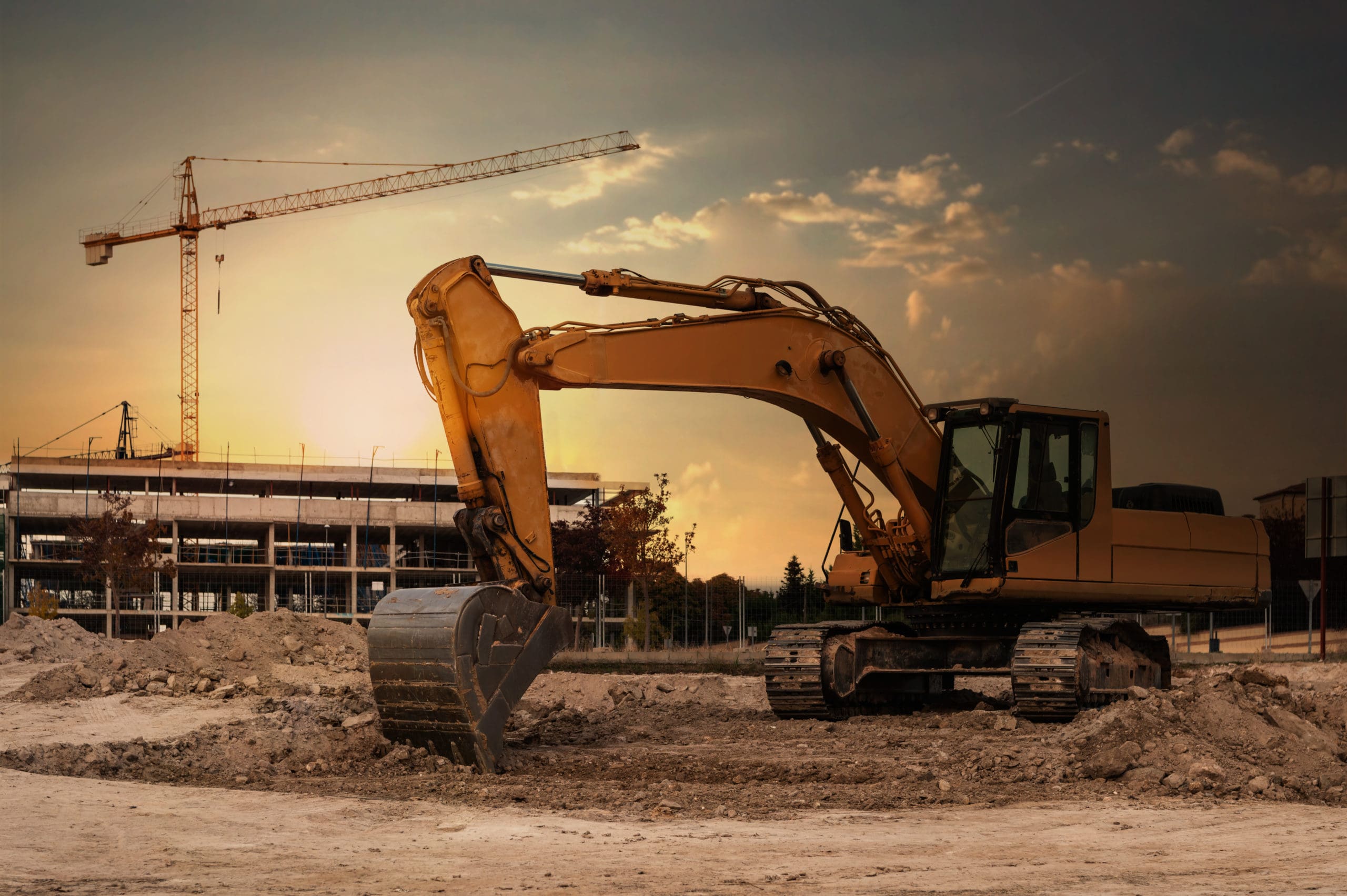 EXPERIENCE, QUALITY, VALUE
With an experienced and diverse estimating and project management staff, as well as our specialized field operations staff, we can bring significant value to the construction process.
QUALITY IS INTEGRAL TO ALL OUR PROJECTS
There are few general contractors that can successfully self-perform services from site preparation to building erection. Southern is one of them and the quality of work is unsurpassed. 
THE VALUE YOUR PROJECT DESERVES
The quality and commitment of our projects go hand-in-hand. The end result for our clients is value – excellent work at the right price. 
Our commitment to your project shows in our numbers. 
Here are a few highlights of our business.
State Lic.# 54206
Building Construction. | Highway, Street and Bridge Const. | Heavy Construction. | Municipal/Public Works Const. | Demolition Work